On a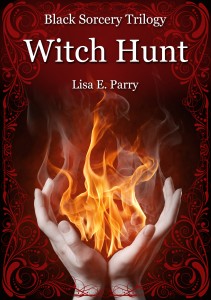 grey coastal holiday with her family, twenty-year-old Melissa Thames doesn't expect much excitement – that is, before she goes into a dusty bookshop and buys a blank diary that turns out to be the most powerful book of black magic in existence.  Her life turns upside down and inside out…
She's kidnapped by a battle witch and her bodyguard, who claim she needs protection. To prove their point, a power-hungry warlock makes a devastating attempt on her life.  Melissa is left with no choice but to run.  Her guardians stand between her and certain death…
Thrown into a world of witchcraft, pursued by sorcerers, and with the threat of a necromancer to boot, Melissa has to figure out: "Why me?"
"Breathlessly exciting, this rollercoaster of a story charts Melissa's coming of age as the most powerful witch of her generation.  A five star read!"  Robin Chambers (author of the acclaimed "Myrddin's Heir" series)
Okay, so that's the blurb for the back of this contemporary, new adult novel. Witch Hunt can be read as a stand-alone, but it is essentially the first installment of the Black Sorcery Trilogy.
I really hope you'll take a chance on Melissa as she will take you on a kick ass, eventful journey. There's never a quiet moment from the point she buys the mysterious and powerful book of black magic. You will find yourself on a magical journey of self-discovery through the eyes of our young protagonist, and your eyes opened to a world of witches and warlocks hidden in plain view of everyday society.
Now, what would a book be without a scrumptious, sink your teeth into, forbidden romance? Have no fear, this book contains that underlining calorific, lick your lips forbidden romance that will keep you on tender hooks begging for it to happen. Will it or wont it?
Witch Hunt is now available for download on Amazon! Find the link on my Buy Online page!