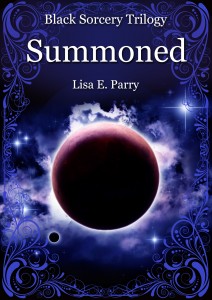 Two months after the catastrophic events that changed Melissa's life, Cheri calls for help. Appealing to Melissa's kind nature, Cheri informs her of her newest mission: to travel to the archaic world of necromancers, answering their call for aid.
With the promise of dragons, commonplace sorcery and chivalrous Warriors, how could Melissa refuse? The only problem is that she will enter Anarch's domain owing him a debt. How long will it be before he calls in his favour?
Her magical abilities are pushed to the limits, the darkness she has fought to supress comes to the forefront and threatens to permanently corrupt her. Not only does she have to deal with the taint of darkness, but she makes a soul altering discovery that rocks her very being and changes her in a way there is no coming back from.
Summoned goes in a different direction to Witch Hunt. We travel to the 'Otherworld' with Melissa and her companions – making new friends and enemies along the way. How will she cope without those darn hair straighteners, pain killers and toilets? All I can say is that other aspects of travelling to a parallel world will make up for it immensely.
I hope you enjoy reading it as much as I enjoyed writing it. I'm absolutely thrilled I can now share it with you all! I hope it doesn't disappoint. Don't forget to visit my Buy Online page for the links. Happy reading!